It was back to work this week and last! For some reason, this transition almost felt more difficult than going back after maternity leave. I can't pull 'the new mom card' anymore, and Emerson is go-go-go all the time now. She seemed very excited to be back in daycare. So excited, that she didn't nap at all, and came home sleepy and cranky. With Matt being back on client work, and two evening events at work this week, I felt like I was barely keeping my head above water. Then I got a weird stomach sickness that left me feverish 3 nights in a row. Take me back to Hawaii!
Anyway, I'm hoping we'll hit our stride next week. We have a fun weekend planned with one of my high school friends who will be in town.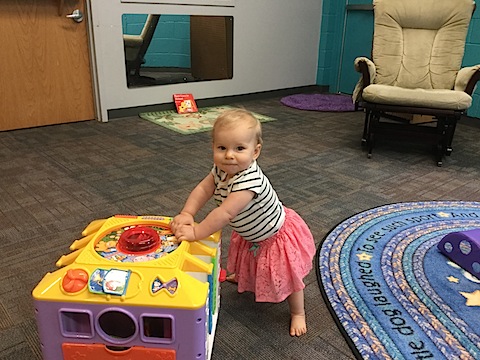 What else is new?
I really need some new work clothes, but haven't found time to go shopping. Where should I go for dressy casual clothes that double as mom-friendly (aka washable)?
I want to get back into the crockpot, as I'm packing lunches for Emerson and myself 3 days a week. She's eating soo much now, and is out-eating the other two bigger babies in her daycare:)
Oh, and the weather has cooled down to the 80's, which makes for perfect evening walk temperatures!
Alright friends, my Friday pizza is waiting. Have a good weekend! Stay safe if you are in the path of the hurricane.