There's a scary storm out there. I keep trying to do things on the internet and whenever the power flickers, the wireless signal goes out. Good thing I already made my dinner. Because I needed the microwave!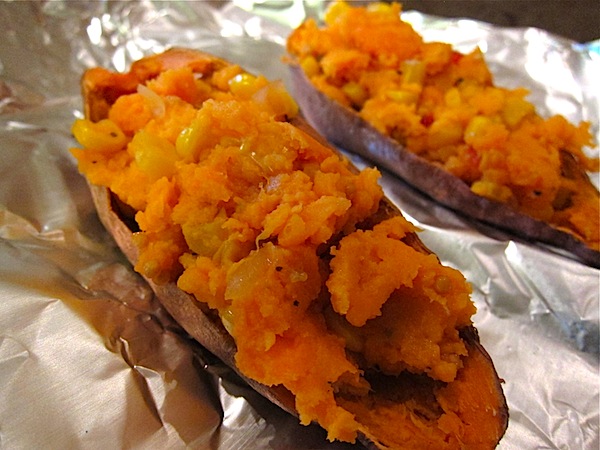 I was inspired by Caitlin's twice baked potatoes today, and immediately went home and made a sweet potato version – I mixed corn relish into the taters and topped them with jack cheese. Soooo good.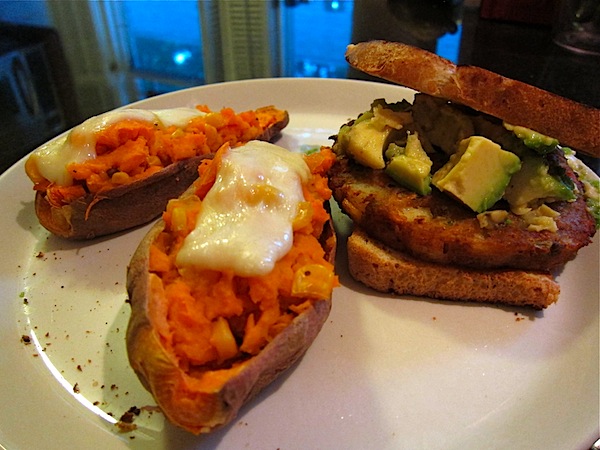 Also, a good old masala burger with avocado. My, this was a fantastic dinner! Got to fill my body with the good stuff in preparation for yet another weekend of indulging.
I'm babysitting for a friend for the next few weeks, so today I hung out with a 6-month bundle of joy – seriously this guy is incredibly cute. I wonder if she'll notice if he goes missing:) Anyway, I've got to get back into the habit of getting to bed before midnight and going to the gym in the morning. It's harder than I thought…whoa, another glitch in the power. I better hit publish. See ya.