We sure got a taste of winter today! Right after I got back from Atlanta this summer, I had a moment when I thought I cold handle cold, but I totally changed my mind today. I must migrate south. But, the wonderful news is that the heat came on in one of my schools today and it was blasting. I wasn't just warm, I was hot!! Some of the older schools have great heat.
After work, I did one of my most dreaded tasks – I put air on my tires. One of them looked really low and once I got to the gas station and measured, all four were nearly 5 psi under! I'm not sure how bad that is, but I'm sure glad I checked. I hate that you only get a certain about of time with the air machine, and since I literally only had $1 cash, I was under a lot of pressure to perform! But I was able to fill all four and get gas, so I feel I accomplished quite a bit.
Then, I came home and made dinner [and lunch] for Matt and I. He's busy busy with five interviews (!) for post-MBA jobs, so I'm trying to help him out a bit. The only problem is that I was rushing so much to make both of our lunches while dinner was cooking, that I dropped and shattered a brand new jar of banana peppers. I made a trip to Harris Teeter this weekend and was excited to get them for Matt – they don't sell them at TJ's or Whole Foods so we were especially sad to lose them:( Speaking of Harris Teeter – compared to my usual grocery trips, I felt extremely overwhelmed with all the options! I won't be going back soon though, because many of the things I like (aka peanut butter) are actually more expensive. Oh, and the fresh apple I bit into today was rotten.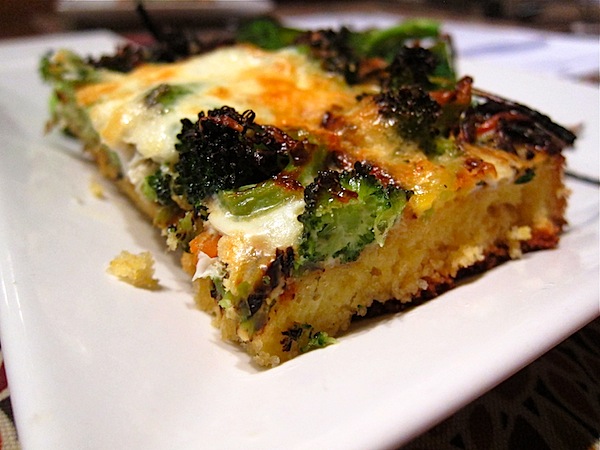 As you can see, dinner was another version of Caitlin's Cornbread Quiche! This time, I used broccoli and added sharp white cheddar. I kinda ran out of cornbread mix though, so it wasn't quite as thick and fluffy as the last time I made it. I just looove cornbread and I think the TJ's mix is better than the fancy pepper cornbread I had this weekend. And I love leftovers – they brighten my day!
What brightens your cold, rainy Monday?