Wasn't the long weekend just sooo nice? Although I'm only working part-time now, Matt has been working crazy hours, and it was amazing to have him home for three days of uninterrupted time!
Saturday was all about getting our life in order. Gym for me, soccer for Matt! We also went grocery shopping, did all the laundry, and cleaned. Don't you love knocking out all the chores on the first day?
Then the three of us had a date night at one of our favorite restaurants: Komali.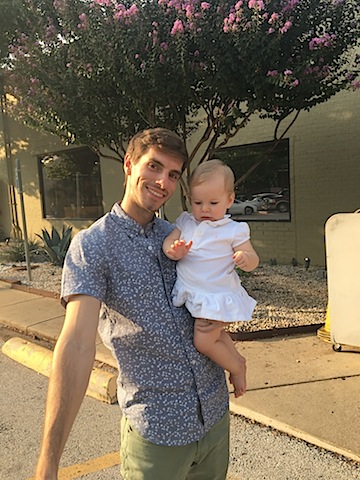 We had a gift card from Matt's parents so we went all out! I had two margs!! And we ordered the incredible mole pork belly tacos, the stuffed pepper, shrimp enchiladas, and Mexican street corn.
Emerson enjoyed going out to dinner. As the 7:00 o'clock hour approached and the restaurant got more crowded, she started to squeal to make sure we paid enough attention to her:)
Sunday was about friends! We took a long walk to the park in the morning before meeting up with friends for brunch at Origin. We hadn't been there in a while, so I couldn't resist getting The King! It's gf french toast with bacon, caramelized bananas, and cream! So decadent! Later in the afternoon, our neighbors had a bbq, so we nibbled and met some new people in our neighborhood. We need to do this more often!
I managed to squeeze in a much needed yoga class on Monday. I don't think I've been in 2+ months and needed it soo badly. My body often aches from labor/carrying a baby around/life?
Matt and I took Emerson to a fun outing at the Perot Museum Monday afternoon. We quickly visited the Universe exhibit (does anyone else get so weirded out thinking about the solar system and such?) before checking out the children's museum area. We were those proud first-time parents in the corner that laughed and commented at every single thing Emerson did in the baby area:)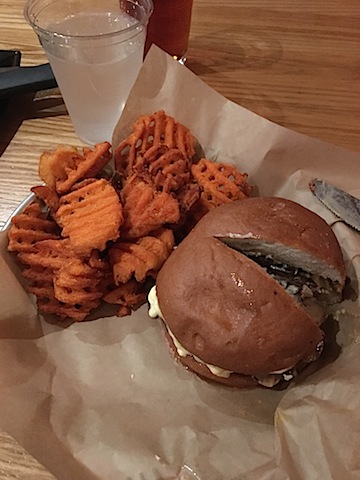 We rounded out the weekend with a trip to our favorite burger bar, Grub. We always split the hippie chickpea patty over the Sonoma salad, sweet potato fries, and a different burger each time.
It was a big weekend of eating, but give us free time and that's what we love to do!
I'm thinking of those in Irma's path as we head into this weekend. It's getting scarier by the hour!